There are many applications that you can use to build a webshop. Each platform has its own pros and cons. Which platform is most suitable for your webshop depends on what is important to you. Two of the most used applications are WooCommerce and Magento 2. In this article we will tell you all about their strenghts and weaknessess what the main differences are!
In short: WooCommerce
WooCommerce is one of the most popular webshop applications that is used worldwide. WooCommerce was originally a webshop plugin from WordPress, but it has now grown into a mature application with a huge community. You can see it this way: WordPress provides the foundation for your site, to which WooCommerce then adds e-commerce functionalities.
You can download WooCommerce for free in the WordPress plugin dictionary. In this way you can easily set up a good webshop. If you want to work a bigger and more seriously with your shop, you will have to purchase extra 'premium' themes/plugins. WooCommerce is an open source system, which means that the software is available from anywhere and that you can download it on the internet for free. This makes it possible to make adjustments to your webshop yourself and to set it up in the exact way you want it.
In short: Magento 2
Unlike WooCommerce, Magento 2 is a standalone e-commerce application. Magento is seen as one of the most effective platforms in which you can build webshops of all sizes. A Magento shop is also very scalable and offers a wide range of extensions and functionalities. So if you want to grow as a shop, the Magento environment can easily be adapted to this. It is also possible to manage multiple webshops from the same environment.
There are two versions: Magento Open Source and Magento Commerce (on-premise/cloud). The Open Source variant can be installed for free on your own web hosting. This version is mainly used by the "smaller to medium" size companies. The Commerce version is more geared towards larger enterprises, with the cloud commerce version also including hosting. The costs of Commerce are a lot higher than the Open Source version. What the exact costs of the Commerce version are, is difficult to determine since Magento provides a price per shop depending on the functionalities you need.
The differences
There are some key differences between Magento and WooCommerce. To create clarity, we have listed 8 points for you, on which we compare the free open source versions. These versions are the most used and are suitable for 90% of all webshops.
Costs: both WooCommerce and Magento Open source, are open source software, which means that they don't cost any money. Although the core software is free, you will almost always have to take extra costs into account for themes, plugins/extensions or features. In general, these costs are a bit more expensive at Magento. If developer work is required, these costs are also somewhat more expensive at Magento. The costs based on domain and hosting are about the same, but they are also slightly cheaper with WooCommerce.
Features: both WooCommerce and Magento have all the important core features you need available. Both have their own strong sides. For example, Magento has more features to manage large catalogs and inventories, where WooCommerce offers more non-e-commerce features such as creating a blog. You cannot say in this that one is better than the other; it depends on which features you want to use.
Extensions and Plugins: both applications have many extensions that you can add to the core software. WooCommerce has the advantage that the extensions that are offered on WordPress are also available to use. In addition, WooCommerce also has more free extensions available than Magento. On the other hand, Magento has more out of the box extensions. Again, which platform is more suitable depends on which extensions you need.
Themes: these determine the design of your shop. Both platforms have pre-made themes that you can use right away. They also both offer the possibility to design yourself. In terms of pre-made themes, WooCommerce has got more available than Magento.
Ease of use: in general, Magento is a bit trickier to understand. The dashboard is also a bit more complicated than that of WooCommerce. So if you want to create and manage your webshop yourself, or transfer it to a customer who is not technical, WooCommerce might be a better option. The dashboard is simpler and contains fewer options. When you look at flexibility in this area, you could say that Magento is actually 'more convenient', but really looking at 'ease of use', WooCommerce is definitely more user-friendly.
Scalability: this is one of Magento's strengths. Due to the strong database architecture, the platform can handle a lot of traffic and orders, which also makes the platform popular with large companies. However, this does not alter the fact that WooCommerce can scale well at small to medium-sized organizations.
Performance: both platforms perform well when you look at performance. This is because they offer cache solutions and other performance tools. Magento has built-in page caching and code optimization, where WooCommerce uses optimization tools.
Safety: safety is extremely important. Customer information should always be private and protected. Both WooCommerce and Magento offer advanced security measures. Magento takes this even further by offering dedicated security patches. The only drawback is that it is difficult to apply. So you will need a developer to stay up to date.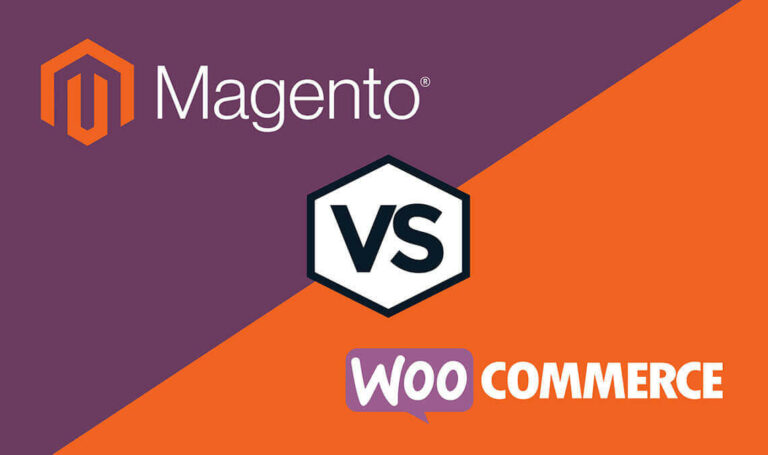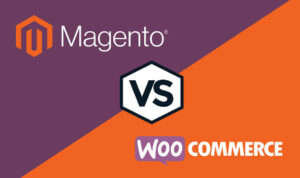 Conclusion?
Some will find WooCommerce a 'better' platform, others Magento 2. If you want to make a choice between the two, it is important to take several criteria into account. It is especially important to look at which functions you need, they ultimately determine your decisive judgment!
In general, the following (succinct) reasoning is given about the difference between the two. When it comes to beginners and small to medium shops, WooCommerce is recommended. It is easy to use and not that expensive to set up. This makes it perfect for companies that want to get started quickly. However, Magento is a very strong e-commerce solution. Especially in the field of scalability, making it extremely suitable for companies that want to grow significantly in the e-commerce landscape.
Hosting your CMS
It is important to know that as soon as you have chosen a platform, you must look for suitable hosting. The hosting of your webshop largely determines the speed, stability, security and other performance factors of your webshop.
With 10+ years of experience as a Magento hoster, we make sure that you get the best Magento hosting for your webshop. We also recently started offering WooCommerce hosting on our platform. Want to try it out? Feel free to contact us!