At Hypernode we strongly believe in offering our customers maximum flexibility in managing their hosting environment. You have the freedom to change your plan any time you want, pay as you go, no set-up fees, 24/7 up and downgrading by yourself, no strings attached. With our latest feature, scheduled up and downgrading, we offer you even more flexibility. In this article we explain how this feature works and how you can use it to your full advantage.
Do you not feel like reading? Watch our short introduction video instead!
Maximum flexibility in managing your hosting environment
At Hypernode we believe you should have the freedom to change your hosting plan any time you want. Let's put it this way: we simply do not like long-term contracts for our Cloud solutions. The contract term of a Hypernode is 1 month and we calculate your hosting costs per second.
If you have a marketing campaign planned and expect more visitors, you can use our Control Panel to upgrade to a larger Hypernode yourself, at any time. When the numbers slow back down after the campaign, you can downgrade your plan again instantly. With us, you pay for your hosting plan by the minute, so that temporary upgrade costs you hardly anything. Besides, you'll recoup the expense in no time thanks to the additional revenue.
Schedule your up or downgrade in our Control Panel
To make up and downgrading even easier, we've added a new feature to our Control Panel. We made it possible to schedule your up or downgrade in advance! In the Control Panel, you find a date & time picker on the Hypernode's change plan menu by which you can schedule (multiple) an up or downgrade for future dates. Canceling a scheduled plan change is possible up until the minute before the up or downgrade has been planned.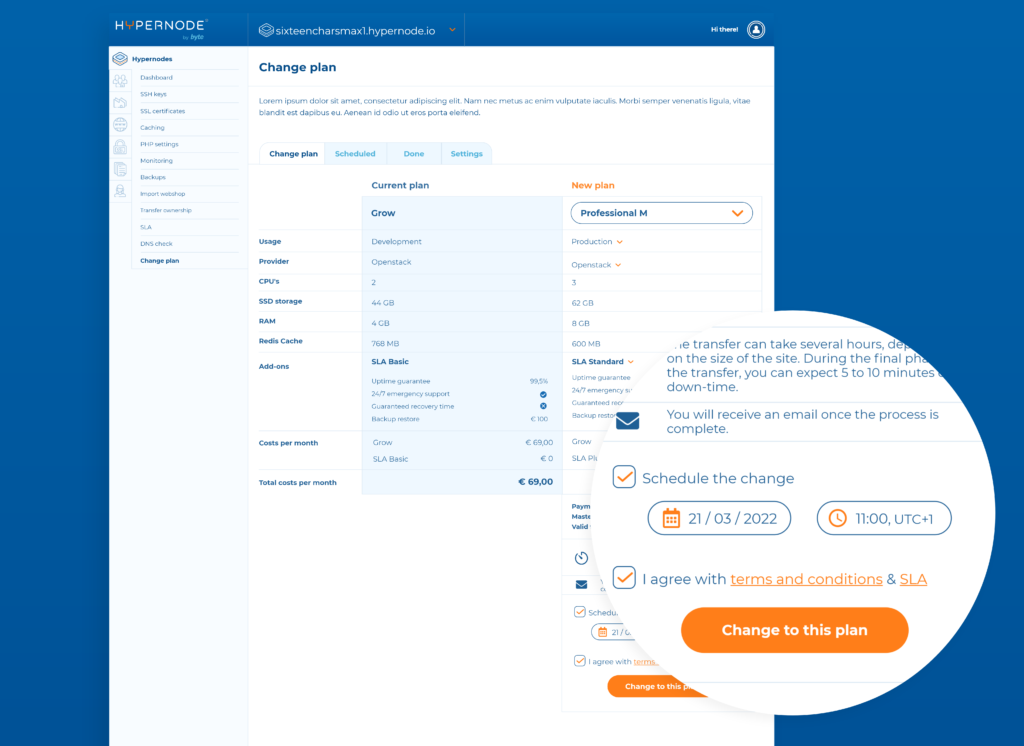 Create
your own way of

autoscaling

But the date & time picker isn't the only feature we added. Besides using our Control Panel Interface, it is also possible to change plans through CLI. By enabling the CLI, it is possible for everyone with SSH access to change the plan and add their own scripting towards triggering an up or downgrade, for example: if my Hypernode has a certain % of CPU load, I want to trigger an up or downgrade. This means developers get the opportunity to create their own way of autoscaling.
Looking for a short summary? Check out the video below!
Our hosting platform offers the very latest in performance, security and development technologies and tools. New features, like the scheduled up or downgrading, are released weekly. Curious? Learn more about our platform here.