Over the past nine months we've made lots of improvements to our Hypernode Control Panel. We added new features, new pages and introduced an extensive user management. Let's look back at everything we achieved and hopefully you're just as happy with the progress we made.
Extensive user management
We've introduced user management to improve the security and usability of our Control Panel. It's possible to assign a team member to a specific role, each with a corresponding level of permissions. We differentiate an Owner, an Admin, a Developer and a Merchant.
Owner: A user with the Owner role can access and use every feature of the Hypernode. This is the most powerful role and cannot be assigned. The user creating the Team will automatically receive the Owner Role.
Admin: A user with the Admin role can use all features but doesn't have access to the Chargebee portal. This means they can't upgrade, downgrade or cancel Hypernode plans. Users with the Admin role are able to invite, set or change roles of team members.
Developer: A user with the Developer role can manage all technical features on a Hypernode level.
Merchant: A user with the Merchant role can visit the Control Panel with view-only access.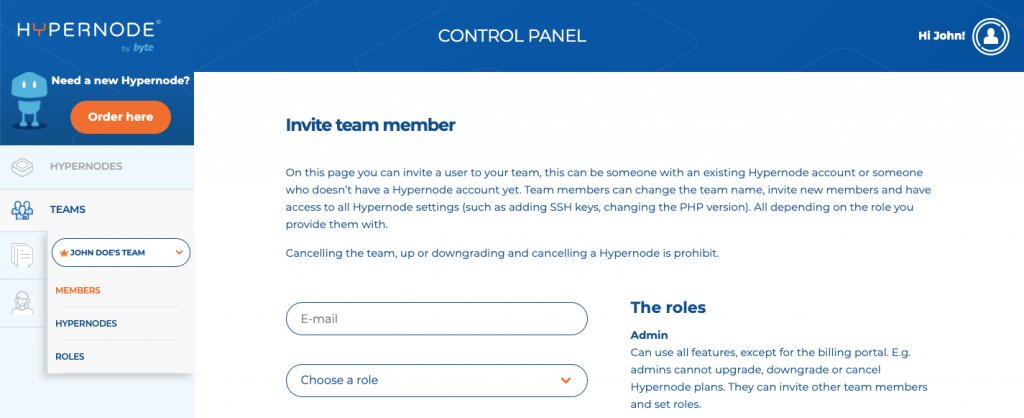 Analyze access logs and block unwanted UserAgents
We always advise our customers to reduce bots and crawlers to a minimum. The more bots you have crawling and indexing your store, the more resources that will cost you. This page in the Control Panel makes it really easy to block unwanted bots via their user-agent.
After analysing all the user agents on our platform, we assembled a list of some of the most common bot users agents who account for a lot of traffic but might not be beneficial for your shop. You can simply click on the user agent you want to block and we will prevent them from accessing your shop from that point on.
Please note: these user agents are only suggestions and are therefore not blocked by default. In addition, you can also scan your own access logs for unwanted traffic. By clicking on the analyze button, we will take a moment to analyze the access logs and show you a list of the most common user agents that visit your shop. You can block these user agents with the press of a button.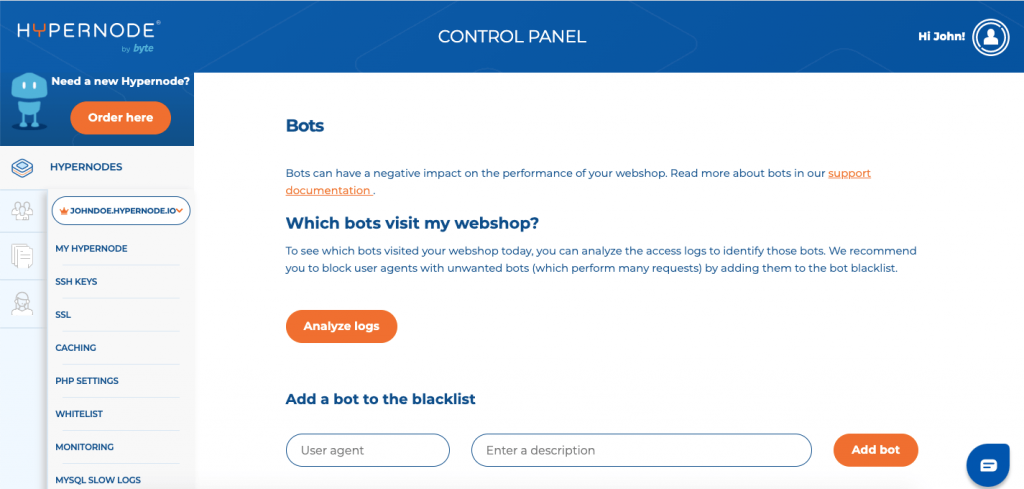 MySQL slow query logs
Does your shop sometimes freeze for unknown reasons? This might have to do with your database queries. If your queries take too long, other queries might be delayed as well. This can result in an overloaded server and a crash of your site.
You can view your MySQL slow query logs in the Control Panel. All queries that took longer than 2 seconds are logged there. This allows you to easily see which queries take the longest and get more details. In many cases this will help you to spot a troubled extension or at the very least tell you where to go from here.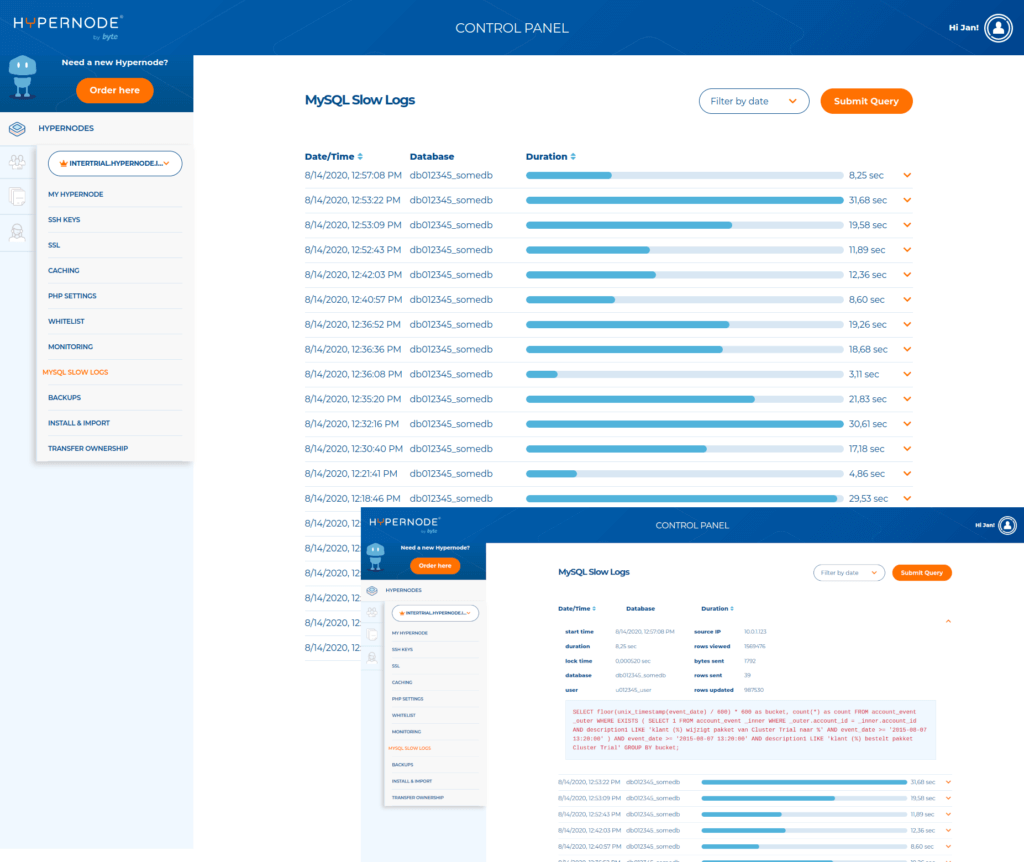 Renewed Account settings page with SSH key manager
We've redesigned the Account settings page so you have all personal details including profile changes, password management and SSH key management on one clear overview page.

New Relic and Blackfire
New Relic and Blackfire are profiling tools that explain what is happening "behind the scenes" on your Hypernode. You can use them to determine the performance bottleneck of your shop. It is now possible to enable New Relic and Blackfire through the Control Panel and the Command Line Interface (CLI).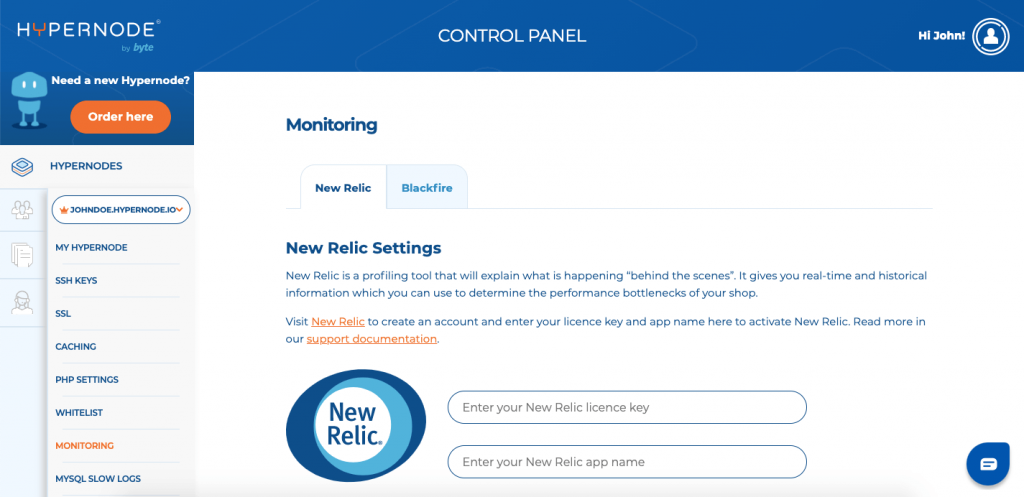 A dashboard of your Hypernode
We released a new version of the 'My Hypernode' page which introduces an overview of settings applied to your Hypernode as well as an overview of graphs showing the performance of your Hypernode.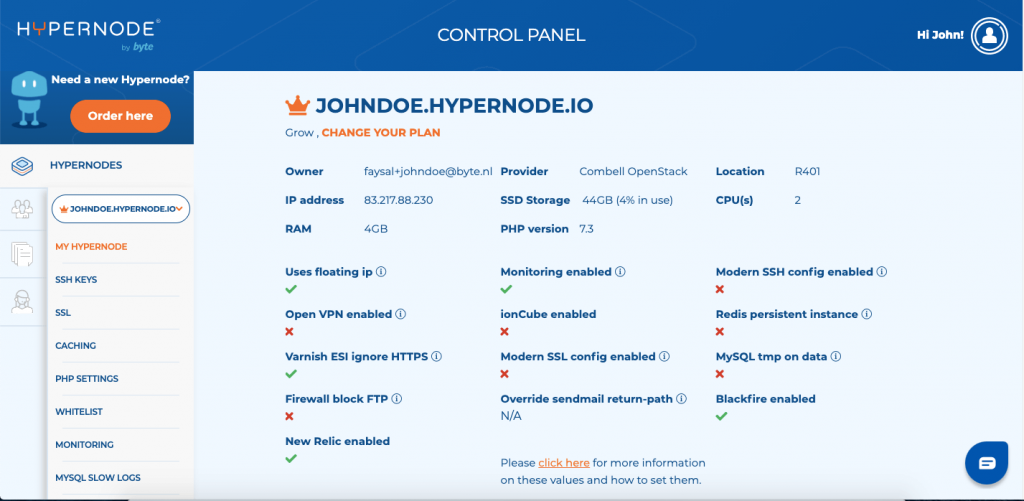 Logging page
On the Logs page you can view all the events happening on the Hypernode(s) and Team(s) you have access to. It also shows logs regarding your personal account. The log page comes with nice filtering on the most essential components.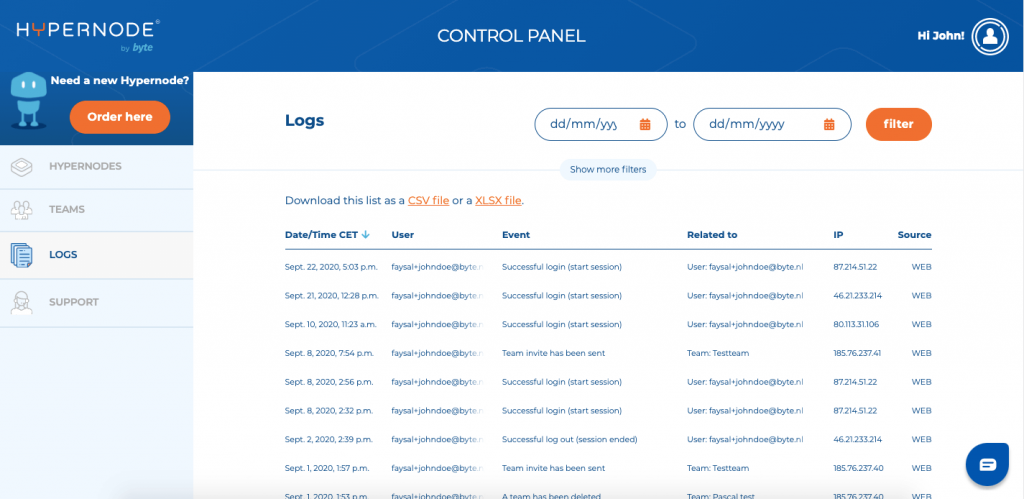 Support page
We introduced a support page in the Control Panel so you can quickly reach out to us if run into trouble or if you have any questions. We're always happy to help!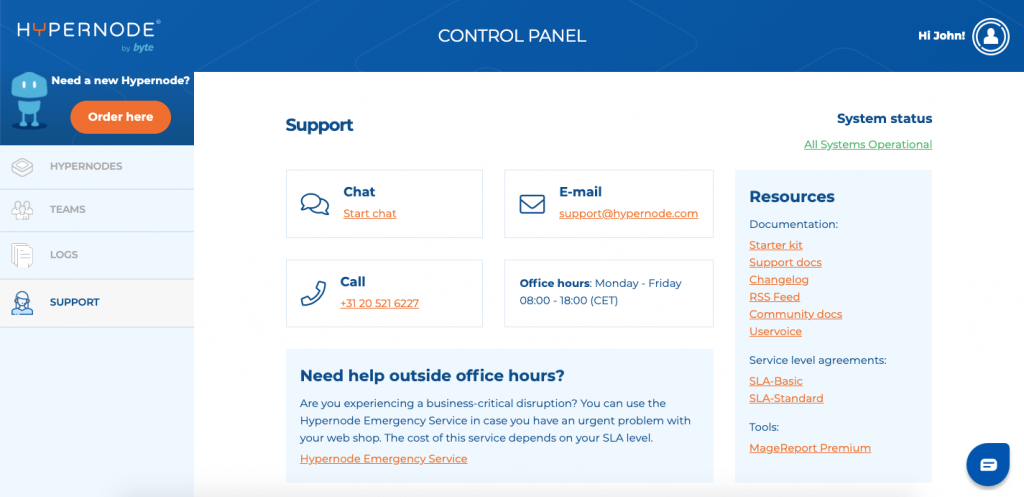 Have you become curious about our Hypernode Control Panel? Try it for free using our 14-day trial and discover why it's the last hosting platform you'll ever need!